I forget what inspired me to look up this in the first place, but I have said in the past that if Catholics were not considered christians then guess what the biggest religion is? Catholicism!!!

but I thought i'd check my facts seeing how i hadn't checked in a while in regard to the split of percentages in relation to Sunni and Shi'a Islam ...

it turns out that the Sunni make up 85% of Islam and Shi'a the rest at 15%.

The vast majority of Muslims belong to one of two major denominations, the Sunni (roughly 85%) and Shi'a (roughly 15%).

now the total number of Muslims is said to be about, according to WikiPedia again,

With 1.3 billion to 1.8 billion Muslims, Islam is the second-largest religion in the world and the fastest growing religion in the world.[10][11]

Now if we take the lower estimate, so as to not be biased, if we take 85% of that,

1.3 billion x 85% = 1.105 billion Muslims


Now as far as I knew there were 2.1 billion christians, and just over half of those were Catholics, so 1.1 billion Catholics...

But god damn, the Pope claims that the "Church membership in 2007 was 1.147 billion people,"

but at any rate, if the Sunni aren't actually the biggest religious cult (remember I picked the lower estimate for the total number for Islam) they will be soon and the world will soon no longer be dominated by Jesus Catholic Christ, and it will become dominated by a religion that for the first one hundred years of its history conquered all the lands from India, via North Africa to France.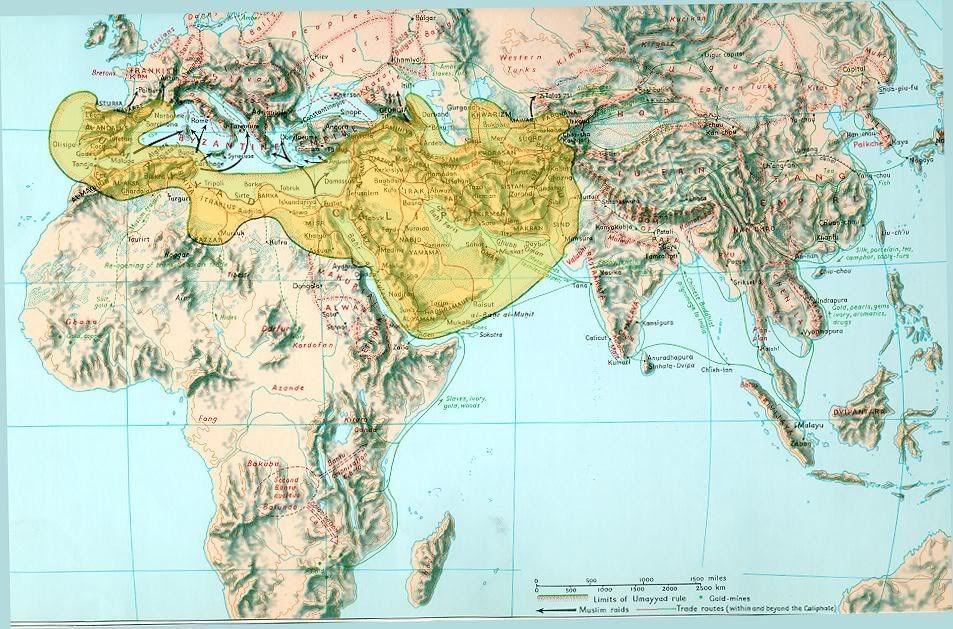 Remember when the Muslims got upset that Pope Benedict mentioned that some Byzantine Emperor said that Islam went around conquering by the sword or some rubbish? uhmm... excuse me? do Muslims not know their own history? First hundred years, starting with Muhammad, that yellow area in the image above, that's how far they went in a hundred years!! They kept trying to go further as well. The little black arrows in the image above indicate the raids the Muslims made.

And that Byzantine Emperor, was the third last Byzantine Emperor and much of his reign involved the Muslims laying siege to Constantinople for *years* at a time! This empire, which lasted 1147 years, fell to the Muslims in 1453, with their last Emperor, Constantine XI, dying in the very final battle....




As the city fell on May 29, 1453, Constantine is said to have remarked: "The city is fallen but I am alive". Realising that the end had come, he reportedly discarded his purple cloak and led his remaining soldiers into a last charge where he was killed. According to the historian Sphrantzes, who doubted the truth of the story, the only way the Emperor was later identified was by his Imperial boots. His body was then decapitated and his head sent across Asia Minor to legitimize the victory.


-- http://en.wikipedia.org/wiki/Constantine_XI#Fall_of_Constantinople